Beste animatiefunctie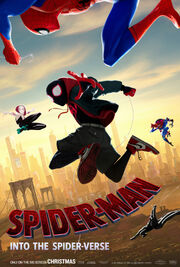 De Oscar voor beste animatiefilm is een Academy Award of Merit die wordt uitgereikt aan de beste film van het jaar door de Academy of Motion Picture Arts and Sciences (AMPAS). De categorie Beste animatiefilm werd officieel opgenomen als jaarlijkse prijs voor het filmjaar 2001 (met als eerste winnaar Shrek). Animatiefilms kunnen worden genomineerd voor andere categorieën, maar dat is zelden het geval geweest: Beauty and the Beast (1991), Up (2009) en Toy Story 3 (2010) zijn de enige animatiefilms die ooit zijn genomineerd voor Beste Film, terwijl Waltz with Bashir (2008) is de enige animatiefilm die ooit is genomineerd voor Beste film in een vreemde taal (hoewel hij geen nominatie kreeg in de categorie Beste animatiefilm).
Geschiktheid en regels
Tot 2011 , moest de award categorie elk jaar geactiveerd worden door de Awards Board, terwijl het nu een standaard categorie is. De prijs wordt alleen toegekend als er ten minste acht animatiefilms zijn (met een theatrale release in Los Angeles). Voor de toekenning van de prijs worden alleen films van meer dan 40 minuten als speelfilms beschouwd. Als er 16 of meer films zijn ingediend voor de categorie, wordt de winnaar gekozen uit een shortlist van vijf films (wat tot nu toe alleen in 2002 en 2009 is gebeurd en opnieuw zal gebeuren tijdens de aanstaande ceremonie van 2011), anders zal er alleen drie films op de shortlist.
Winnaars en genomineerden
Computeranimatiefilms waren de grote winnaars in deze categorie, met acht overwinningen in de tienjarige geschiedenis van de prijs. De enige uitzonderingen waren in 2002 en 2005, met winnaars Spirited Away, een traditioneel geanimeerde animatiefilm, en Wallace & Gromit: The Curse of the Were-Rabbit, een stop-motionanimatiefilm . Beide niet-CG-films werden ook niet in de Verenigde Staten geproduceerd; Spirited Away kwam uit Japan (het is ook de enige film die niet in de Engelse taal is die de prijs wint) en Wallace & Gromit: The Curse of the Were-Rabbit kwam uit Groot-Brittannië.
Pixar Animation Studios is de meest succesvolle organisatie in de geschiedenis van de beste animatiefilm. Alle acht speelfilms gemaakt door Pixar tussen 2001 en 2010 waren genomineerd voor de prijs en slechts twee gingen verloren (Monsters Inc. verloor van Shrek en Cars verloor van Happy Feet); Pixars film uit 2011, Cars 2, was de eerste die geen nominatie ontving in de categorie.
Beste animatiefilm in tien jaar
Jaren 2000 • Jaren 2010
Jaren 2000
74e Academy Awards (2001)
Winnaar Shrek – Aron Warner-genomineerden Jimmy Neutron: Boy Genius – Steve Oedekerk, John A. Davis Monsters, Inc. – Peter Docter, John Lasseter
75e Academy Awards (2002)
Winnaar Spirited Away – Hayao Miyazaki-genomineerden Ice Age – Chris Wedge Lilo & Stitch – Chris Sanders Spirit: Stallion of the Cimarron – Jeffrey Katzenberg Treasure Planet – Ron Clements
76e Academy Awards (2003)
Winnaar Finding Nemo – Andrew Stanton Genomineerden Brother Bear – Aaron Blaise, Robert Walker The Triplets of Belleville – Sylvain Chomet
77e Academy Awards (2004)
Winnaar The Incredibles – Brad Bird Genomineerden Shark Tale – Bill Damaschke Shrek 2 – Andrew Adamson
78e Academy Awards (2005)
Winnaar Wallace Gromit in The Curse of the Were-Rabbit – Nick Park, Steve Box Genomineerden Howls Moving Castle – Hayao Miyazaki Tim Burtons Corpse Bride – Mike Johnson, Tim Burton
79e Academy Awards ( 2006)
Winnaar Happy Feet – Genomineerden George Miller Cars – John Lasseter Monster House – Gil Kenan
80e Academy Awards (2007)
Winnaar Ratatouille – Genomineerden Brad Bird Persepolis – Marjane Satrapi, Vincent Paronnaud Surf " s Up – Ash Brannon, Chris Buck
81e Academy Awards (2008)
Winnaar WALL-E – Andrew Stanton Genomineerden Bolt – Chris Williams, Byron Howard Kung Fu Panda – John Stevenson, Mark Osborne
82e Academy Awards (2009)
Winnaar Up – Pete Docter Genomineerden Coraline – Henry Selick Fantastic Mr. Fox – Wes Anderson The Princess and the Frog – John Musker, Ron Clements The Secret of Kells – Tomm Moore
2010s
83e Academy Awards (2010)
Winnaar Toy Story 3 – Lee Unkrich Genomineerden How to Train Your Dragon – Chris Sanders, Dean DeBlois The Illusionist – Sylvain Ch omet
84e Academy Awards (2011)
Winnaar Rango – Gore Verbinski Genomineerden A Cat in Paris – Alain Gagnol, Jean-Loup Felicioli Chico & Rita – Fernando Trueba, Javier Mariscal Kung Fu Panda 2 – Jennifer Yuh Nelson Puss in Boots – Chris Miller
85e Academy Awards (2012)
Winnaar Brave – Mark Andrews, Brenda Chapman Genomineerden Frankenweenie – Tim Burton ParaNorman – Sam Fell, Chris Butler The Piraten!Band of Misfits – Peter Lord Wreck-It-Ralph – Rich Moore
86e Academy Awards (2013)
Winnaar Frozen – Chris Buck, Jennifer Lee, Peter Del Vecho Genomineerden The Croods – Chris Sanders, Kirk De Micco, Kristine Belson Despicable Me 2 – Chris Renaud, Pierre Coffin, Chris Meledandri Ernest & Celestine – Benjamin Renner, Didier Brunner The Wind Rises – Hayao Miyazaki, Toshio Suzuki
87e Academy Awards ( 2014)
Winnaar Big Hero 6 – Don Hall, Chris Williams, Roy Conli Genomineerden The Boxtrolls – Anthony Stacchi, Graham Annable, Travis Knight How to Train Your Dragon 2 – Dean DeBlois, Bonnie Arnold Song of the Sea – Tomm Moore , Paul Young The Tale of the Princess Kaguya – Isao Takahata, Yoshiaki Nishimura
88e Academy Awards (2015)
Winnaar Inside Out – Pete Docter, Jonas Rivera Genomineerden Anomalisa – Charlie Kaufman, Duke Johnson, Rosa Tran Boy & the World – Alê Abreu Shaun the Sheep Movie – Mark Burton, Richard Starzak When Marnie Was Daar – Hiromasa Yonebayashi, Yoshiaki Nishimura
89e Academy Awards (2016)
Winnaar Zootopia – Byron Howard, Rich Moore, Clark Spencer Genomineerden Kubo and the Two Strings – Travis Knight, Arianne Sutner Moana – John Musker, Ron Clements , Osnat Shurer My Life as a Courgette – Claude Barras, Max Karli The Red Turtle – Michael Dudok de Wit, Toshio Suzuki
90e Academy Awards (2017)
Winnaar Coco – Lee Unkrich en Darla K. Anderson Genomineerden The Boss Baby – Tom McGrath, Ramsey Naito The Breadwinner – Nora Twomey, Anthony Leo Ferdinand – Carlos Saldanha Loving Vincent – Dorota Kabiela, Hugh Welchman, Ivan Mactaggart
91e Academy Awards (2018)
Winnaar Spider-Man: Into the Spider-Verse – Bob Persichetti, Peter Ramsey, Rodney Rothman, Phil Lord, Christopher Miller Genomineerden Incredibles 2 – Brad Bird, John Walker, Nicole Paradis Grindle Isle of Dogs – Wes Anderson, Scott Rudin, Steven Rales, Jeremy Dawson Mirai – Mamoru Hosoda, Yuichiro Saito Ralph breekt het internet – Rich Moore, P. hil Johnston, Clark Spencer
Speciale prijzen
Voorafgaand aan de creatie van de categorie Beste animatiefilm in 2001, kende de Academie drie speciale prijzen toe voor prestaties met betrekking tot lange animatiefilms. In elk geval werd de film die aanleiding gaf tot de speciale erkenning, hetzij gedeeltelijk geproduceerd, hetzij gedistribueerd door de Walt Disney Company of een van haar dochterondernemingen. De prijzen waren als volgt:
11e Academy Awards, 1938 Special Award To Walt Disney for Snow White and the Seven Dwarfs, erkend als een belangrijke scherminnovatie die miljoenen mensen heeft gecharmeerd en pionierde in een geweldig nieuw entertainmentveld voor de film tekenfilm." 61e Academy Awards, 1988 Special Achievement Award "Aan Richard Williams voor de animatierichting van Who Framed Roger Rabbit." 68e Academy Awards, 1995 Special Achievement Award "Aan John Lasseter, voor zijn geïnspireerde leiderschap van het Pixar Toy Story-team, resulterend in de eerste lange computeranimatiefilm."